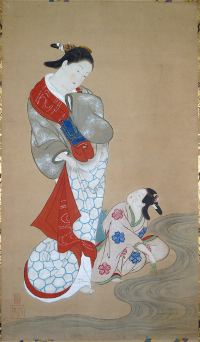 Given names: Bunkado; Bunkadô; Fujiwara; Jitokusai; Jitokusō; Magoemon; "Uji" Nishikawa; Nishikawa Nishikawa Sukebê /Sukebê; Nishikawa Sukenobu; Saiō; Sukenobu; Uemon; Ukyô; Ukyō; Yûsuke
Sukenobu was "The most accomplished and influential Ukiyo-e painter in Kyoto during the first half of the eighteenth century" [1]. He was born and died in Kyoto, the centre of the Imperial Court, home of the classical arts and aristocratic custom. It is this tradition that permeates Sukenobu's prolific work. Contemporaries studied his books and prized his paintings of single figures and groups of females. He "influenced Masanobu directly, Harunobu profoundly and almost all subsequent ukiyo-e artists indirectly" [2].
In the years in which the ukiyo-e style was emerging from the publishing district of Edo, Sukenobu was training from a young age in the painting styles of Kano school artist Kano Eino and Tosa school artist Tosa Mitsusuke, (from whom he may have derived the Suke- in his name). Whilst ukiyo-e prospered and grew in Edo, it also developed in the Kamigata area (Osaka and Kyoto) which produced its own style and masters. Of the Kamigata artists Sukenobu led the genre – he produced thousands of illustrations and would remain amongst the most prolific ukiyo-e artists of the entire Edo period.
His images were almost exclusively in monochrome. Sukenobu produced no single-sheet prints.
The beginning of ukiyo-e style and Sukenobu's prodigious output took place in the Genroku era, 1688-1704, a period of great wealth amongst the merchant classes of Osaka, Kyoto and Edo. These cities expanded and saw the emergence and flowering of an urban popular culture: "the later part of the Genroku era around 1700… the townspeople as a class had reached a high degree of affluence and culture, and the artistic impulse in Japan in general was more vital and widely diffused, less shaped by traditional influences, since it was no longer in the service solely of the aristocracy. At this time, too the artists of the Ukiyo-e school… prefixed to their signatures "Japanese painter" to indicate their allegiance to the new point of view" [3].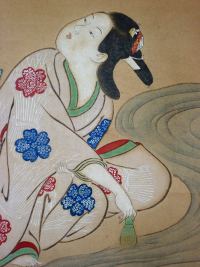 Sukenobu produced book illustrations and other works of popular art around 1698. He then began working with the Hachimonjiya publishers/booksellers, producing illustrations for ukiyo-e zōshi ("ukiyozōshi" first appeared in about 1710 in reference to erotic works, but the term later came to refer to literature that encompassed a variety of subjects and aspects of life during the Edo period) and yashusha hyôbanki (hyôbanki were compilations of rankings and critiques of kabuki actors and courtesans and were important elements in the urban popular culture of the period), and other works. His name first appeared on the colophon for a book in 1708, and the first illustrated book (ehon) he fully designed himself was published in 1723.
From these beginnings – he quickly became pre-eminent as an ukiyo-e book illustrator in Kyoto. He was a prolific designer of picture-books designing well over 100. (Indeed, Lane gives the number at around 200, but he may have been counting multiples as 3, 10, etc.) What is remarkable is the high standard and inventiveness maintained across this output.
Of particular interest is his rendering of different classes of women of this period. In his first major work of 1723, Hyakunin joro shinasadame, "One Hundred Women Classified According to their Rank" – this illustrated book, as others of his works, show female figures from various classes including courtesans, always elegantly drawn no matter what their occupation. This publication was banned by the government for lese-majeste (crimes against the monarch).
Ukiyo-e expert Richard Lane writes that Sukenobu's style was profoundly influential, and his images of beauties are characterised by a "subdued conception of lovely, unobtrusive grace (perhaps closer to actual Japanese womanhood than that of any other artist)" [4]
Sukenobu is also known for his shunga, producing some of the finest in the genre. Between the years 1710 and 1733, at least thirty volumes of erotica designed by him were published; roughly one-third of these were published between 1719 and 1722.
Serious interest in the decorative arts was characteristic of 18th century Japan. Sukenobu was known for his creativity and taste in inventing kimono designs. He was commissioned on several occasions by kimono-makers to create textile designs for them and he illustrated kimono pattern books.
The painting Beauties near Water (Suihen bijin zu 水辺美人図) offered on this update shows a typical Sukenobu figure: A plump face and a graceful and sensuous stance so often seen on the pages of his books.
For some examples of other paintings held in museum collections please follow links below:
Woman and Attendant, Three Girls having Tea, Metropolitan Museum of Art : Metropolitan Museum of Art.
Clock and the Beauty, Tokyo National Museum : Clock and the Beauty, Tokyo National Museum .
British Museum : British Museum.
[1] – Timothy Clark, Ukiyo-e Paintings in the British Museum, Smithsonian Institution Press, 1992, p83
[2] – James Albert Michener, The Floating World, University of Hawaii Press, 1983 p. 376
[3] – Mailey, Jean. "Four Hundred Winters … Four Hundred Springs …." Metropolitan Museum of Art Bulletin, New ser., v. 18, no. 4 (December, 1959)
[4] – Lane, Richard. Images from the Floating World. New York: Konecky & Konecky, 1978. pp58.