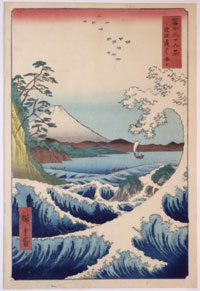 Click here to view image full size.
A giant wave thrown up by the sea at Satta. Suruga Satta kaijo, "Waves Off the Satta Pass in Suruga Province" from the set Fuji sanjurokkei, the "Thirty-six Views of Mount Fuji." The finest design from the set. The spume of a wave was thought to transmogrify into chidori ( a species of plover ) which can be seen here flying above the sea. Published by Tsutaya Kichizo, 1858.
Very good impression and colour. One slight spot at top, otherwise very good condition. Signed Hiroshige ga.
Status: Sold