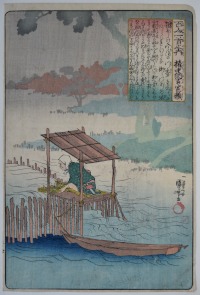 Click here to view image full size.
A poem by the celebrated poet Gonchunagon Sadayori from the series Hyakunin isshu no uchi, "One Hundred Poems for One Hundred Poets" which was compiled in 1235 by Fujiwara Teiki (1162-1241). Shows a fisherman catching fish in a fish trap. One of the best designs from the set with fine chiaroscuro printing of the background. Published by Ebisuya Shoshichi, Ebine, 1840-42. Only 58 of the 100 prints are known. Various translations of the poem exist, here is one:
In the early dawn
When the mists on Uji River
Slowly lift and clear
From the shallows to the deep
The stakes of fishing nets appear
Very fine impression. Fine colour. Slight nibbling of top right margin, otherwise very good condition. Signed Ichiyusai Kuniyoshi ga.
Status: Sold