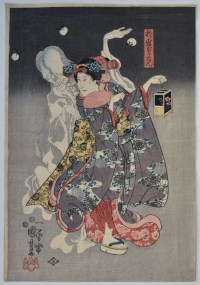 Click here to view image full size.
Oiwa and her ghost: Yondaime Ichikawa Kodanji IV no Oiwa bokon, "The Spirit of Oiwa Performed by Ichikawa Kodanji IV." Probably in the play Atari mimasu yotsuya no kikigaki, performed at the Kawarasaki Theatre, 1848. The popular story has many versions, the gist being that Oiwa's husband, Kamiya Lemon, falls in love with Oume, the daughter of a rich neighbour. Oume's family poison Oiwa so that Lemon can marry the daughter. The poison hideously disfigures Oiwa who comes back to haunt Lemon. Published by Ebiya Rinnosuke, 1848.
Fine impression, colour and condition. Signed Ichiyusai Kuniyoshi ga.
Status: Reserved