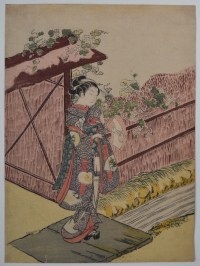 Click here to view image full size.
The left sheet of a rare diptych which was originally produced as an egoyomi (picture calendar) in 1766. A mitate (parody) of Chapter 4, Yugao, from the Genji Monogatari, "Tale of Genji." This chapter relates how a mysterious beauty living in a mansion covered in vines with flowering yugao blossom (shown here covering the fence) enraptures Genji and they consummate their passion in a remote villa. However, one of Genji's former lovers discovers the tryst and takes the life of "Yugao." The right sheet shows a fashionably dressed young wakashu and a boy holding a miniature ox cart cricket cage. Other impressions in: Margaret O. Gentles, The Clarence Buckingham Collection, volume II, AIC, 1965, p. 26, no. 44; Tokyo National Museum, acc. no. A-10569_1274 (diptych) (inv. No. 10-5006); David Waterhouse, The Harunobu Decade, Museum of Fine Arts, Boston, 2013, vol. 1, pp. 88-89, cat. No. 100, acc. nos. 54.348-9 (diptych) and 21.4969 (left sheet); and Ukiyo-e Shuka, vol. 8, 1980, listed p. 116, no. 114. Rare.
Fine impression with the woodgrain showing strongly in the background as though it were blind-printed. Very good colour and condition.
Status: Sold