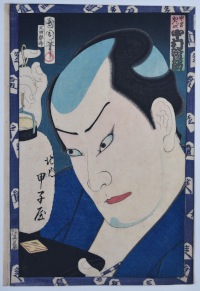 Click here to view image full size.
The actor Nakamura Shikan IV as Ishikawa Hachizaemon in the play Chuko musashi no abumi staged at the Nakamura-za Theatre in 4/1869. From a set of at least 22 prints published by Gusokuya Kahei, 1869. Kunichika was a hack artist who nevertheless produced some fine triptychs (horizontal and vertical) and this fine set of actor bust portaits.
Fine impression and colour. Minor edge soil, otherwise very good condition. Signed Kunichika hitsu.
Status: Available