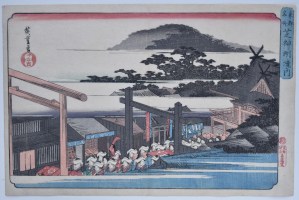 Click here to view image full size.
A procession at the Shiba Shinmei keidai, "Precincts [of the] Shiba Shinmei [Shrine]." The shrine with the distinctive chigi protruding roof beams can be seen on the right. A popular area with the Zozoji Temple, tea stalls and where the Shoga Matsuri Festival was held. From a set of twenty-one prints Toto meisho, "Famous Views in the Eastern Capital" published by Sanoya Kihei, c 1834-5. The series was extended to fifty-five in c 1839-42.
Fine, very early impression. The publisher's seal at the bottom right should be red, later editions having it in black. Fine colour. Slight centre fold, otherwise very good condition. Signed Hiroshige ga.
Status: Sold