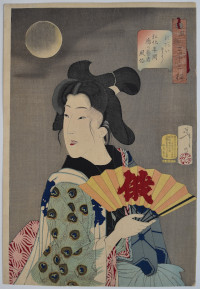 Click here to view image full size.
Niai-so: Koka nenkan kuruwa no geisha fuzoku, "Looking Suitable: The Appearance of a Brothel Geisha of the Koka Era [1844-1848]." From the set Thirty-two Aspects of Women published by Tsunashima Kamekichi, 1888. Shows the beauty dressed as a fashionable young man.
Very fine impression of the first edition. Very fine colour with blind-printing and burnishing. Gold (brass-powder) applied to the peacock design on the costume. This particular design from the set is notorious for having the brass degrade the paper and these areas fall out as well as offsetting onto the opposite print in album sets. Very fine condition. Signed Yoshitoshi ga.
Status: Sold