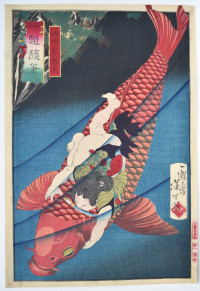 Click here to view image full size.
Saito no Oniwakamuru from the set Ikkai zuihitsu, "A Miscellany by Ikkai." (This being an early name of Yoshitoshi's.) The young Saito Musashibo Benkei was given the moniker Oniwakamuru "Devil Child" because of his feats of strength and general behaviour. The episode depicted here, which was a popular theme for artists, shows the young Oniwakamaru battling a giant carp at the Bishamon Waterfall, where he has gone looking for his mother, Ohaya. On killing the carp, he discovers it has eaten his mother. A set published by Masadaya Heikichi, 1872-3 (this being 1872). Even amongst Yoshitoshi's best work, this is an outstanding design.
Very fine impression of the first edition. Fine colour and condition. Signed Ikkaisai Yoshitoshi hitsu.
Status: Sold