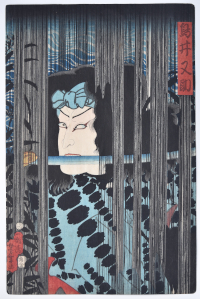 Click here to view image full size.
The actor Ichikawa Kodanji IV as Torii Matasuke clenching a sword between his teeth in pouring rain. From the play Kagamiyama gonichi no Iwafuji performed at the Ichimura Theatre, 3/1860. The plot centres around Lord Taga who is disloyal to his wife Lady Ume with Oryu. One of Taga's retainers, Motome, advises him against his actions and is dismissed. Meanwhile Oryu and her husband plan to take over Taga's domain so a plot is hatched to kill her. However, Motome's faithful servant, Matasuke, murders Lady Ume by mistake. The design shows Matasuke just prior to his mistake. Published by Kaku-Kin (Kakumotoya Kinjiro), 1860.
Fine impression and colour. Some minute restored binding holes and very slight trimming on right, otherwise very good condition. Signed Ikkaisai Yoshitoshi ga.
Status: Sold