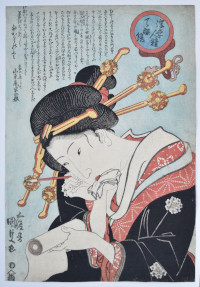 Click here to view image full size.
A courtesan biting on a tissue about to write a love letter from the set Ukiyoe jinsei tengankyo, "Types of the Floating World Seen Through a Physiognomist's Glass." The glass top right. These professionals who purported to look at people's features and give counsel based on their countenance were called Ninsomi or simply Somi. This set of ten prints showing different female personalities have their characteristics written up above. Utamaro produced two fine sets based on this theme in 1792-4 and c 1802: Fuji ninso jupon and Bijin gomenso. The clenching of the tissue is always an indication of arousal. Published c 1830 by Moriya Jihei (Kinshindo).
Fine impression with blind-printing. Fine colour. Small repaired binding holes and very slight trimming, otherwise very good condition. Signed Gototei Kunisada ga.
Status: Available