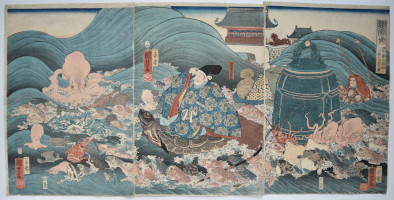 Click here to view image full size.
A triptych showing Fujiwara no Hidesato being accompanied by a retinue of fish, octopuses and lobsters as he leaves the Dragon King's Palace with the presents of inexhaustible rice, bolts of cloth, and a bell in gratitude for killing the centipede of Mount Mikami. Ryugujo Tawara Toda Hidesato ni sanshu no tosan o okura. Published by Maruya Kyushiro, 1858.
Very good impression. Good colour. Some light toning and soil. Signed Ichiyusai Kuniyoshi ga.
Status: Sold