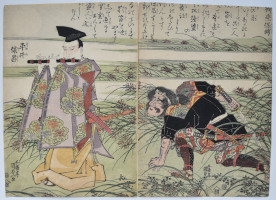 Click here to view image full size.
A very early and extremely rare diptych showing Hakamadare Yasusuke and Hirai no Yasumasa. A famous story depicted many times by other artists during the following century. The story relates how Yasumasa, an accomplished flautist, is playing his flute one evening on Ichihara moor. Unknown to him, the villain Hakamadare Yasusuke is creeping up to steal his sumptuous robe. At the last minute Yasusuke is so captivated by the beauty of the music that he abandons his plan. It turns out he is Yasumasa's brother and is given a fine set of robes. Published by Iseya Rihei (Kinjudo) c. 1815.
Very good impression and colour. Trimmed round. Signed Gototei Kunisada ga.
Status: Sold