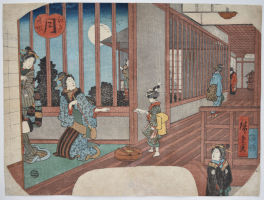 Click here to view image full size.
An uncut fan print. Moon from a setsugekka set of famous views of Edo. Shows the interior of a teahouse. Published 1849-53 by Ibaya Sensaburo.
Very good impression and colour. Restored centre bottom and other minor imperfections, but otherwise good condition. Signed Hiroshige ga. Very rare: Seemingly only two other impressions extant.
Status: Sold