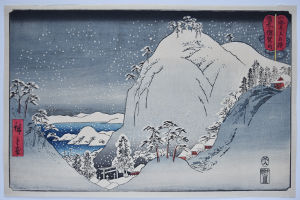 Click here to view image full size.
A snow scene Bizen Yugayama, "Mount Yuga in Bizen [Province]." From a set of 20 prints Sankai mitate sumo, "Mounains and Sea Contending Like Wrestlers." The title is in a sumo umpire's fan (a gunbai). There are 10 prints of mountains and 10 prints of harbours. The set was published by Yamadaya in 1858 (except for Etchu Tateyama which was published by Marujin). A beautiful print.
Fine impression, colour and condition. There is an anomaly here (as sometimes happens in Ukiyo-e): The first edition of this set has a variegated cartouche. However, the impression here is unquestionably the earliest but has only a one-colour cartouche. Signed Hiroshige ga.
Status: Sold