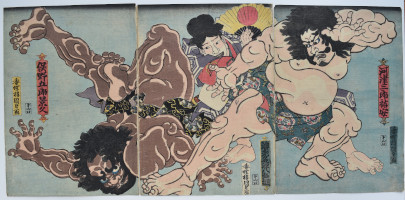 Click here to view image full size.
A triptych showing the great wrestling match between Matano Goro Kagehisa and Kawazu Saburo Sukeyasu. The match was refereed by Ebina Gempachi and occurred during a hunting expedition organised by the general Minamoto no Yoritomo in 1176 near Mt. Akazawa. Kawazu was the eventual victor after a rematch, throwing Matano by twisting his foot behind him – a throw still known as the kawazu in his honour. Kawazu was later found murdered – his death being avenged by his sons Juro and Goro. Published by Yamaguchiya Tobei, 1838-40. An earlier version was designed by Kunisada as well as there being an excellent example by Kuniyoshi.
Very good impression and colour. Minor creasing and wear, otherwise good condition. Signed Kochoro Kunisada ga.
Status: Sold