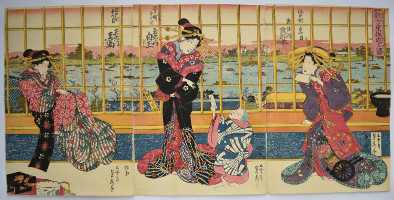 Click here to view image full size.
A triptych, Shin Yoshiwara karitaku no zu, "Temporary Lodgings of the New Yoshiwara." Shows the courtesans Shiratama, Masanagi, and Tamakazura of the Tamaya House before a latticed window overlooking the Ryogoku River. The Tamaya was one of the best known brothels. Their kamuro are listed beside their names. Published c. 1843-7 by Yamaguchiya Tobei. Rare: I cannot locate another impression.
Very fine impression, colour and condition.Signed Gountei Sadahide ga.
Status: Sold