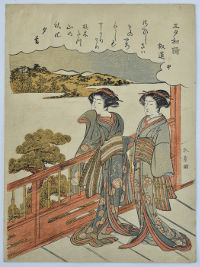 Click here to view image full size.
A chuban print from a set of three: Sanseki waka, "Three Evening Poems." In this case interpreting a poem by Jakuren hoshi (1139-1202). The poem reads: Sabishisa wa / sono iro to shimo / nakarikeri / makitatsu yama no / aki no yugare, Loneliness / is not / any particular colour – / a mountain of black pines / on an autumn evening. The other two prints probably have poems by Teika and Saigyo. Shows beauties on a balcony admiring the pines in the distance. Published c. early 1770s. Ex collection Erik Holmberg. Rare.
Very good impression. Particularly good colour with pigments that have usually turned. Very good condition. Signed Shunsho ga.
Status: Sold