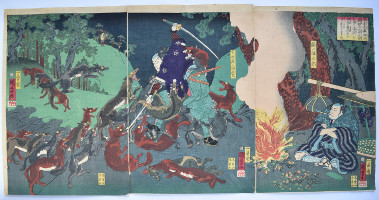 Click here to view image full size.
A triptych showing Miyamoto Mushashi (c. 1584-1645) fighting a pack of wolves in the mountains of Hakone watched by Sekiguchi Yataro seated beside a fire. Musashi was a renowned double-bladed swordsman (as seen here) and is considered the sword-saint of Japan. Published by Kiya Sojiro, 4/1861 and is probably Kuniyoshi's last print.
Very good impression and colour. Slight creasing, otherwise very good condition. Signed Ichiyusai Kuniyoshi ga.
Status: Sold