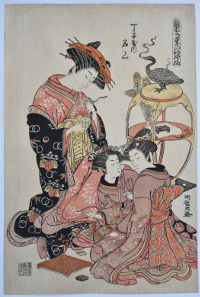 Click here to view image full size.
An oiran, Meizan (or Nayama) of the Chojiya House in the Shin-Yoshiwara with her two kamuro. From a large series – the total not known – with title: Hinagata wakana no hatsu moyo, "New Designs as Fresh as Young Leaves." Published in the late 1770s by Eijudo with some designs by Juzaburo. A wonderful set. Another impression in MFA, 11.14622.
Fine impression. Exceptionally good colour. Very slight thinning down two sides, otherwise fine condition. Signed Koryu ga with printed kakihan.
Status: Sold