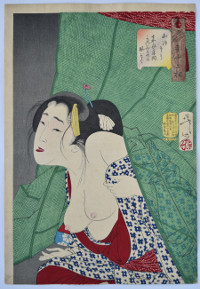 Click here to view image full size.
Kayu-so: Kaei nenken kakoi-mono no fuzoku, "Looking Itchy: The Appearance of a Kept Woman of the Kaei era [1848-1854]. Shows a bare-breasted beauty emerging from a mosquito net from a set Thirty-two Aspects of Women published by Tsunashima Kamekichi, 1888. The set shows women of different backgrounds and occupations from the Kansei era through to the Meiji era with punning allusions to their situation or mood. One of the three best designs from the set.
Very fine impression of the first edition. Fine colour and condition with the extra border left and top. Signed Yoshitoshi ga.
Status: Sold