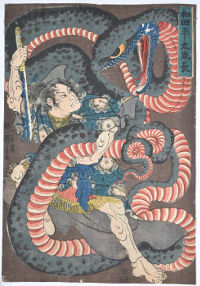 Click here to view image full size.
Wada Heita Tanenaga (1182-1213), short sword in hand, struggling with a giant python. He was a renowned archer and retainer of Minamoto no Yoriie. Various stories tell of how he came across the python in a cave or saved a village from its carnivorous attacks. From an untitled early set published by Yamashiroya Heisuke, c. 1845. Robinson S1f.8. A striking design and rare.
Very good impression and colour. Slight trimming, otherwise very good condition. Signed Ichiyusai Kuniyoshi ga.
Status: Sold