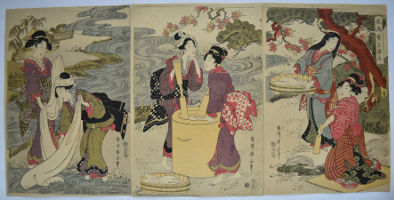 Click here to view image full size.
A triptych with title: Furyu nuno zarashi, "Elegant Drying Clothes." Shows six beauties washing, pounding and fulling cloth in one of the Crystal rivers. A connotation to draw from the six figures would seem to indicate the Six Tama Rivers – a popular subject in Ukiyo-e. The public seemed particularly curious about these beauties who washed clothing in streams, as well as the women and girls, oharame, who went into Kyoto to sell firewood and charcoal, also awabi divers. Nunozarashi was also the name of a dance that involved streamers of cloth being swirled around. There was a history of painting the Tamagawa rivers going back to at least the mid 17th century, and it was also a popular subject for poets. These "crystal" rivers or streams were indeed clear and unpolluted at this time and there would have been an abundance of fish as well. Published by Izumiya Ichibei, c.1811-18. Rare.
Superb impression, colour and condition. On heavy de-luxe hosho. Signed Kikugawa Eizan hitsu.
Status: Sold