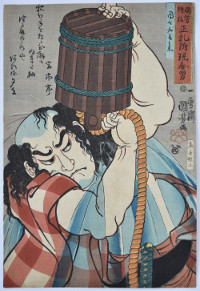 Click here to view image full size.
The best design from a set of half-length otokodate figures: Kuniyoshi moyo shofuda tsuketari genkin otoko, "Men of Ready Money with True Labels Attached, Kuniyoshi Fashion." Here showing Danshichi Kurobei emptying a bucket of water over himself. Danshichi was a fishmonger in the city of Sakai who murdered somebody in the mid-winterof 1697, the body only being discovered when the snow melted. He is often depicted pouring water over his head, although there are also versions where he commits the crime in a swamp. Published by Ibaya Kyubedi, 1845. Poem by Hoshitei.
Very good impression and colour. Slight trimming, otherwise very good condition. Signed Ichiyusai Kuniyoshi ga.
Status: Sold