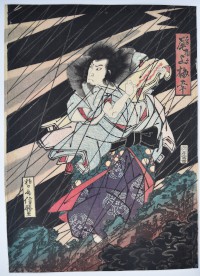 Click here to view image full size.
An Osaka print showing the actor Onoe Baiko III as Kan Shojo (Sugawara Michizane) in the play Sugawara denju tenarai kagami, "Sugawara and the Secrets of Calligraphy." Performed at the Takeda Theatre, 3/1830. This is the famous Mt. Tempai scene from the play. Published by Tenmaya Kihei. Shows Kan Shojo transformed into the Thunder God wreaking revenge on his enemies.
Fine impression and colour. Crease near right edge, otherwise very good condition. Signed Tessai Nobukatsu ga.
Status: Sold