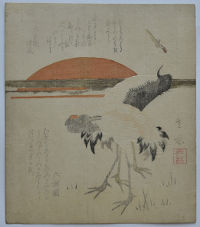 Click here to view image full size.
A surimono of a male and female red-crowned crane (aka Manchurian crane). Behind a huge setting sun. The crane represents good fortune, longevity and fidelity in Japan and is a popular subject for surimono. Unrin, a Nanga/Shijo artist, was a pupil of Tetsuo (1791-1871). Issued c. 1840s.
Fine impression with the birds outlines and plumage beautifully blind-printed. Very good colour. Minimal soil, otherwise very good condition. Signed and sealed Unrin.
Status: Sold