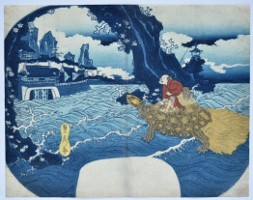 Click here to view image full size.
An uncut aizuri-e fan showing Urashima Taro astride a large turtle approaching the Dragon King's Palace. The story relates how the fisherman rescues the turtle from some miscreant children on a beach. A few days later, while fishing, the turtle appears and rewards him by taking him to the palace (Ryugu-jo Castle) where he is thanked by Princess Otohime, the King's daughter. After a few happy days he wishes to return to his village but discovers he has, in fact, been away for 100 years and become an old man. Extremely rare: Possibly the only known impression. Provenance: Ex collection Toni Strauss-Negbaur, seal au verso.
Very good impression and colour which is mainly aizuri with colour on Urashima and the turtle. Restored centre fold and slight edge soil, otherwise good condition. Signed Sadahide ga.
Status: Sold