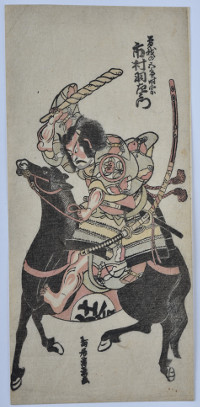 Click here to view image full size.
An hosoban benizuri-e showing the actor Ichimura Uzaemon IX as Soga no Goro Tokimune, brandishing a club, and riding to avenge the murder of his father by Kudo Suketsune. Published c. 1768. (The publisher's seal may be on the underside of the horse.) Kiyomitsu was the second son of Kiyomasu II.
Very good impression and colour. Light album backing, otherwise very good condition. Signed Torii Kiyomitsu ga.
Status: Sold