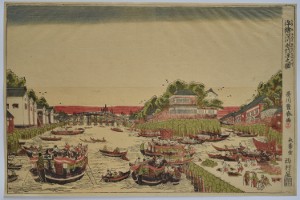 Click here to view image full size.
The founder of the Utagawa school who had, amongst others, Toyohiro and Toyokuni as his pupils. Although not the first to use western conventions of linear perspective, he was the first to employ them extensively and in full colour and had obviously studied engravings from Holland, Germany and Italy -particularly prints of Venice after Canaletto. Uki-e Fukagawa Eitai suzumi no zu, "Perspective Picture: A View Enjoying the Cool Near Eitai Bridge, Fukagawa." Shows the Sumida River busy with boats; Eitai Bridge in the distance to the left and beyond the masts of vessels moored at Tsukudajima. (The Eitai Bridge was to collapse in 1807 killing anything from 500-1500 people.) To the right the then newly built neighbourhood of Nakazu. The water on the right is the Hakozaki canal. Published by Eijudo, c 1771. Provenance: Ex Hayashi collection, seal in right border. Extremely rare.
Fine impression and colour with the blue at the top intact which is very rare. In exceptional condition. Signed Utagawa Toyoharu ga.
Status: Sold