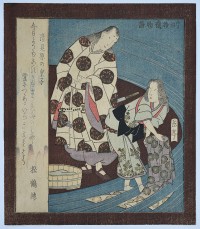 Click here to view image full size.
A surimono with title Kiyomihara no Oji, "The Kiyomihara Prince" from a set based on the Uji Shui Monogatari, "Tales Gleaned from the Uji Councillor," this being Minamoto no Takakuni (1004-77). This episode from chapter 15 relates how the succession to the Emperor Tenji, who had died, is disputed between Prince Oama (the former emperor's younger brother) and Prince Otomo (the former emperor's son by a low-ranking woman). Oama, fearing an attack, escapes. Coming to the Sunomata Crossing in Mino Province he is unable to cross the river. A local woman tells him all boats have been confiscated by Prince Otomo. To escape detection she agrees to hide him under a bucket. Evading arrest he asks her to recruit an army of local men, which she does and they go on to defeat Prince Otomo. The woman was said to be the god of Fuwa. Rare.
Fine impression. Very good colour and condition with silver, gold and blind-printing. Signed Gakutei.
Status: Sold