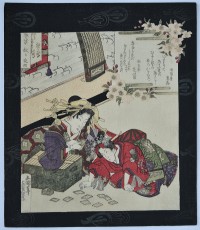 Click here to view image full size.
A surimono showing a courtesan and her acolyte playing a Hyakunin Isshu version of uta-garuta, a card game where a hundred poets are matched to a hundred poems. Karasaki: Night rain on a festival day from a set of surimono Kuruwa hakkei, "Eight Views in the Licensed District [the Yoshiwara]." The Eight Views theme , which came from China, was embraced by ukiyo-e, firstly depicting landscape views but then extended to cover accomplishments or moments of the day, usually associated with fashionable beauties. The set issued by the Biwaren Poetry Club in 1832. Their stylised symbol – the biwa – appears in the border.
Very fine impression and colour with gold, silver and blind-printing. Very slight crease, otherwise fine condition. Signed Gokotei Sadakage. Rare.
Status: Sold