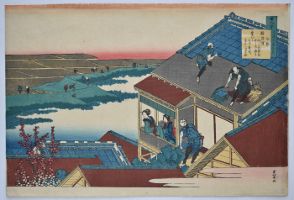 Click here to view image full size.
A design interpreting a poem by the Lady of Ise (c. 875-c. 938) from an unfinished set Hyakunin isshu uba ga etoki, "The Hundred Poems [By the Hundred Poets] as Told by the Nurse." Published 1835-36 by Eijudo with 27 prints known and 67 outstanding drawings for the set. Shows a mother and daughter or lady and servant at a window overlooking Naniwa Inlet with rice fields in the distance and men working on the roof of the building they are in.
Fine early impression with woodgrain showing on the roof. Fine colour. Small nick out of right edge, otherwise fine condition. Signed Zen Hokusai manji.
Status: Sold