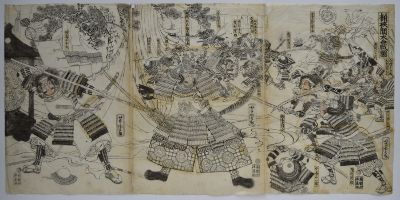 Click here to view image full size.
An original hanshita-e triptych drawing for an unpublished print: Okehazama daikassen no zue, "The Great Battle of Okehazama." Shows Imagawa Yoshimoto being attacked by Hattori Koheita and Mori Shinsuke and killed. The battle was in June 1560. The intended print was to be published by Kiya Sojiro and has the publisher's mark on the drawing as well as the censor seal for 1866.
Sumi on thin paper with extensive pentimenti. Sold "as is" with all imperfections.
Status: Sold