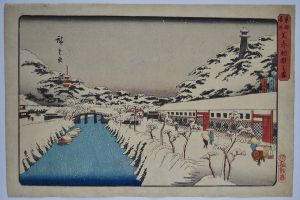 Click here to view image full size.
Shiba Akabane no yuki, "Snow falling at Akabane in Shiba." From a Toto meisho "Famous Sights of the Eastern Capital" set published by Kikakudo (Sanoki), the seal in red in right margin, c. 1832-35. There is confusion over how many prints belong to this series: The original set of twenty-one designs seem to have been extended to fifty-five in c. 1839-42. Shows the Akabane Bridge with the Zojo-ji Temple between trees above. To the right is Chancellor Arima's mansion and above a tall fire-tower.
Fine, early impression. A very difficult design to find in early state. Later editions have the black seal of Sanoki in the right margin. Another first edition is in the Clarence Buckingham collection, The Art Institute of Chicago (1925.3464). A further interesting detail is that a block was specifically chosen with a wavy grain to print the water. Very good colour and condition. Signed Hiroshige ga.
Status: Sold