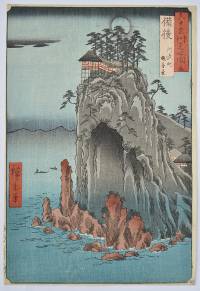 Click here to view image full size.
Bingo Abumon Kannondo. The temple of Kannon at Abumon, Bingo Province. From the set Rokuju yoshu meisho zue, "Famous Places in the Sixty-odd Provinces." Published by Koshimuraya Heisuke between 1853-1856 (this being 1853).
Fine, early impression. The earliest states have a cloud printed top left (as here). Very good colour. Slight centre fold and trimmed close, otherwise good condition. Signed Hiroshige ga.
Status: Sold