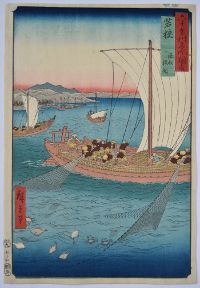 Click here to view image full size.
Wakasa, gyosen karei ami, catching flatfish in Wakasa Province. From the set Rokuju yoshu meisho zue, "Famous Places in the Sixty-odd Provinces." Published by Koshimuraya Heisuke between 1853-1856 (this being 1853). This province was famous for its flatfish caught in the offshore waters and was considered a winter delicacy.
Fine, early impression. Fine colour and condition.Signed Hiroshige ga.
Status: Sold