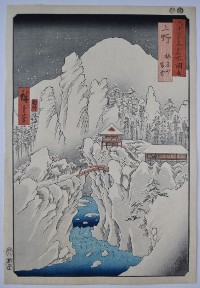 Click here to view image full size.
Kozuke, Harunasan setchu, "Kozuke [Province], Mount Haruna Under Snow." From the set of sixty-nine prints, Rokuju-yoshu meisho zue, "Views of Famous Places in the Sixty-odd Provinces." Published 1856 by Koshihei, although sealed between 1853-56 (this being 1853). A red bridge spans a gorge with precipitous cliffs and a fast flowing river. Fantastic crags point upwards into the sky. In the distance is Mount Haruna, a sleeping volcano.
Fine, early impression. Fine colour and condition. Signed Hiroshige ga.
Status: Sold