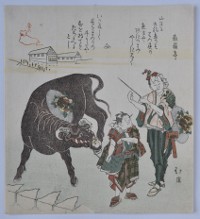 Click here to view image full size.
Hokkei, a pupil of Hokusai, is best known for his fine surimono. This rather enigmatic example shows an ox being led by a farmer and his son. There appears to be a festival element in the headgear. Presumably issued for the Ox year (1829). The poetry club logo, top left, is in the form of an ox. Another impression is in Harvard, 1933.4.1981, and another example is in the MFA, Boston, 11.20608. Interestingly, this example lacks the aforementioned ox seal: Possibly there was a commercial printing of the surimono.Two poems above. Rare.
Fine impression. Fine colour with extensive silver. Fine condition. Signed Hokkei.
Status: Sold