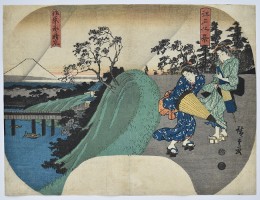 Click here to view image full size.
An uncut fan print: Ochanomizu no seiran, "Fine Weather but Windy." From a set Edo hakkei, "Eight Views of Edo." Published 1847-8 by Ibaya Senzaburo (who specialised in fans). Shows two beauties caught on a blustery day to the north of the Kanda River, the aqueduct lower left and Mt. Fuji in the distance. Exceptionally rare: The V & A museum has a complete (trimmed) set, see Rupert Faulkner, Hiroshige Fan Prints, 2001, nos. 23-30 (this being no. 25). And another impression is illustrated in Ukiyo-e Art, number eighteen, Memorial Exhibition of Hiroshige, 1968, no. 3. These appear to be the only other impressions known.
Fine impression. Very good colour. Slight centre fold and soil, but generally very good condition. Signed Hiroshige ga.
Status: Sold