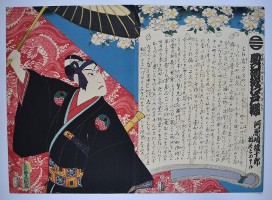 Click here to view image full size.
A dai-oban print showing the actor Kawarazaki Gonjuro I (Ichikawa Danjuro IX) in the role of Hanakawado no Sukeroku, an otokodate (chivalrous commoner) in the play Sukeroku yukari no Edo zakura, "Sukeroku, the Flower of Edo." This play was performed at the Ichimura Theatre, Edo in 3/1862 and this print was published by Ebisuya Shoshichi the previous month to advertise the play. The storyline is based after the exploits of Soga no Goro and was one of the Kabuki juhachiban compiled by Ichikawa Danjuro VII for the family repertoire.
Fine impression with burnishing on the costume. Fine colour. Light album backing, otherwise fine condition. Untrimmed. Signed Ki-o Toyokuni ga.
Status: Sold