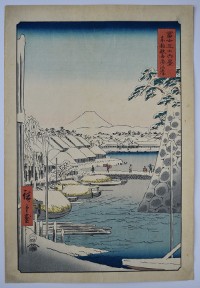 Click here to view image full size.
Sukiya embankment in snow, Toto Sukiya-gashi, from Fuji sanjurokkei, the "Thirty-six Views of Fuji." The set published by Tsutaya Kichizo, 1858. The rampart on the inner side of the moat of Edo Castle on the right. Figures cross a bridge leading to Sukiya Gate. In the distance the long outer walls of the main residence of the Nabeshima Clan of Saga. Fuji on horizon.
Fine impression, very good colour and condition. Signed Hiroshige ga.
Status: Sold