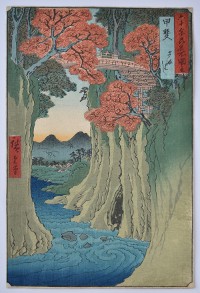 Click here to view image full size.
The cantilevered Monkey Bridge from Rokujuyoshu meisho zue, "Famous Views in the Sixty-odd Provinces." Published by Koshimuraya Heisuke 1853-6 (this being 1853). This bridge – one of the three most famous bridges in Japan – is situated in Otsuki and purports to be 1300 years old (albeit rebuilt many times).
Fine impression of the first edition. Fine colour. Trimmed close, otherwise very good condition. Signed Hiroshige ga.
Status: Sold