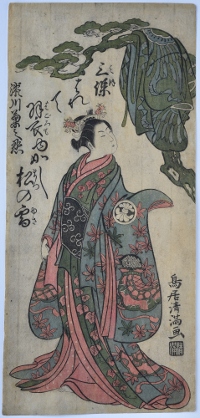 Click here to view image full size.
The actor Segawa Kikunojo II as the Tennin (a devine being that is able to fly by means of a feathered kimono) from the play Hagoromo, "The Feathered Mantle." She stands on Miho Beach, the feathered kimono caught in the tree behind her. The story relates how fishermen find the boa but will only return it if she performs a dance. Published c early 1760s.
Fine impression. Very good colour: Benizuri-e with beni, green and blue. Some light toning and soil, otherwise very good condition. Signed Kiyomitsu ga with kiyomitsu seal.
Status: Sold