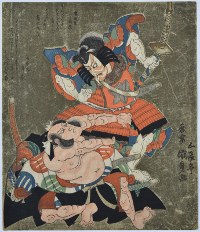 Click here to view image full size.
A surimono showing Ichikawa Danjuro VII and Bando Mitsugoro III as Soga no Goro and Asahina no Saburo in the armour-pulling (kusazuri-biki) scene from the play Tsukisenzu haru gohiki Soga. Issued 1827. The story relates how Soga no Goro was feasting at a banquet when he learns of a plot to assassinate his brother, Juro. He rushes off to don his armour. Asahina, the liege of his enemy, tries to prevent him by pulling at his armour. Poems by Yukinoya Takane and Hoshitei Masunari. Rare.
Fine impression with extensive silver and gold. A gold ground. Fine colour. Some loss of the gold ground as is the case with other known impressions of this surimono. This appears to be the best preserved copy. Very good condition. Signed Oju Gototei Kunisada ga.
Status: Sold