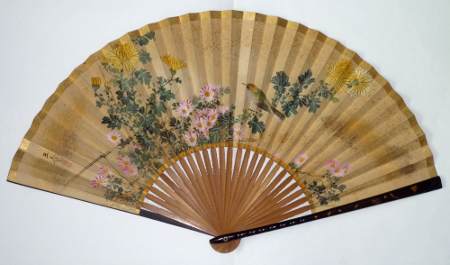 Click here to view image full size.
An original painted fan. On one side a bird amongst flowers and the reverse also with flowers. A leading figure in Tokyo art circles and the last great representative of the Shijo school. In exceptional condition with extensive gold leaf. Signed Gyokusho with seals Shibun on both sides.
Full colour on silk, each panel 39.75 x 25 in; 101 x 63.5 cms. Extremely good condition. Signed Kinzaburo Yoshitoshi ga with blurred seal but reading Go Kaisai. Extremely rare.
Status: Available