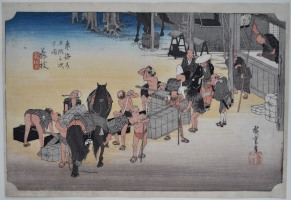 Click here to view image full size.
Fujieda from Tokaido gojusan tsugi, "The Fifty-three Stations of the Tokaido." The set of fifty-five prints was published jointly by Hoeido and Senkakdo in 1834. Shows porters unpacking at the relay station. It was here that fresh horses could be obtained, luggage weighed, labour arranged, and payments made. Hiroshige's most famous set that was reprinted many times.
Fine early impression: The porter just off-centre rubbing his back with a towel has a small area on his head that does not print on the earliest impressions, which was later corrected. Fine colour. Very slight centre fold, otherwise fine condition. Signed Hiroshige ga.
Status: Sold