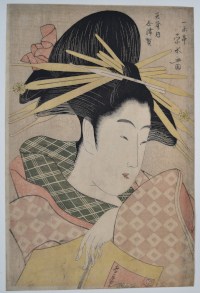 Click here to view image full size.
A fine okubi-e ("large head") portrait of the courtesan Shizuka of the Tama-ya House. Eisui, like the other main pupils of Eishi, produced some of the finest bust-portraits in Ukiyo-e. Published by Maruya Bunemon c late 1790's. Other impressions illustrated in Klaus J. Brandt, Hosoda Eishi, page 72, 524, no. C35, catalogued p. 231, and the Library of Congress, FP2-JPD, no. 1912. Extremely Rare.
Very good impression. Good colour. Slight soil, otherwise good condition. Full sze. Signed Ichirakutei Eisui ga.
Status: Available