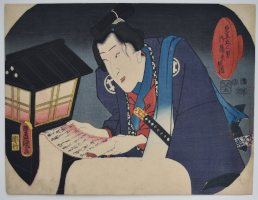 Click here to view image full size.
A fan print showing the actor Bando Shuka I as Shirai Gonpachi from a set Mitate gonin otoko, go-hiiki no omoizashi, "A Parody of the Five Chivalrous Commoners: A Cup of Sake From Their fans." Omoizashi means to pour sake for one's loved one and indicates the adoration of the fans for their actors. Published by Yama-Ta, 2/1852.
Very good impression, colour and condition. Signed Toyokuni ga.
Status: Available