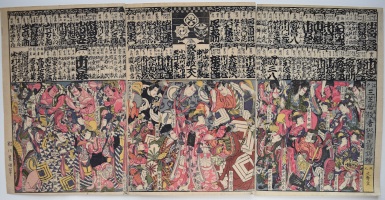 Click here to view image full size.
A fascinating triptych: Edo sanshibai yakusha nigao seisha nishiki-e, "Brocade Print of True Copies of Actor Likenesses in the Three Theatres of Edo." Shows all the actors appearing in the three theatres at that time: Nakamura-za, Ichimura-za, Morita-za, with the roles for which they were famous. For example, jitsuaku, "truly evil" or katakiyaku, "villains." Below the crests of the three theatres is Kabuki O-iri, "Kabuki Full Houses." Published between 11/1799 and 1/1801 (Arashi Hinasuke II died in 2/1801).
Fine impression, colour and condition. Signed Utagawa Toyokuni hitsu.
Status: Sold