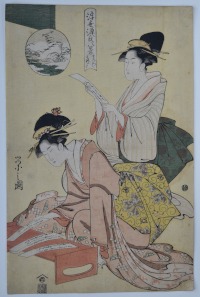 Click here to view image full size.
Two beauties examining tanzaku poetry cards from a set Ukiyo Genji hakkei, "Eight Views of Genji in the Floating World." The designs stand alone but also form diptychs. This series compares scenes from the famous Tale of Genji novel written by the Lady Murasaki in the early 11th century with the Eight Views of Omi [Lake Biwa]. In the present case, Maboroshi rakugan (viz Katata rakugan, "Descending Geese at Katata") is compared to chapter 41, Spirit Summoner, of the Tale of Genji where a poem composed by the Akashi Lady is in response to the grieving Genji's poem after the nocturnal encounter with Murasaki which refers to the wild goose (aka Genji) having flown away. Published by Eijudo c 1797-99. Another impression is in the B.M., reg. no. 1931, 0427,0.8 and an impression is illustrated in Klaus J. Brandt, Hosoda Eishi, 1977, 119, no. 301. Provenance: Sold Sothebys, New York, 28/10/1980, lot 866.
Fine impression. Very good colour with yellow ground. Slight centre fold and very slight trimming, otherwise very good condition. Signed Eishi zu.
Status: Available